If you've somehow stumbled across this without context, it's in relation to our current Kickstarter campaign, which you can check out here.
OK, on with the fun stuff!
WEIGHT
We're obsessed with the weight of our gear. We're also obsessed with being accurate. So much so that Doug once pulled apart and weighed every single component of the Carry-on.
Yes, even the thread.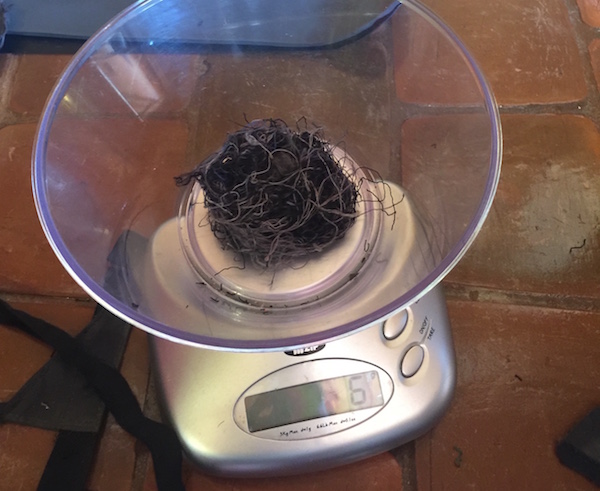 Because of those dual obsessions, we decided not to list unit weight in the initial campaign – right now we only have pre-production models, and the weight may change slightly in the final models.
That said, as a guide, the Daily is currently 1.05kg / 2.31lb and the Carry-on 2.0 is currently 1.45kg / 3.19lb.
DAILY DRINK BOTTLE HOLDER
As some of you have noted, there's currently no dedicated drink bottle holder on the Daily.
The very first thing to decide in the Daily design process was "How big is this bag?" Over the past couple of years we asked people for the ideal size for a bag that would work as a companion piece to the Carry-on, and thus as a personal item – as well as a standalone everyday backpack. Combining that feedback with our focus on easy access via an open-flat main compartment and separate laptop compartment, we arrived at the current 21L size.
There are two main reasons there isn't a bottle holder mounted externally:
1) We made the bag 'ready for business'. A drink holder attached on the outside of such a small bag would be super conspicuous and really cramp its style as a smart business tool.
2) Bottles won't fit with the space available.
It's the second one that's most important. Check this out: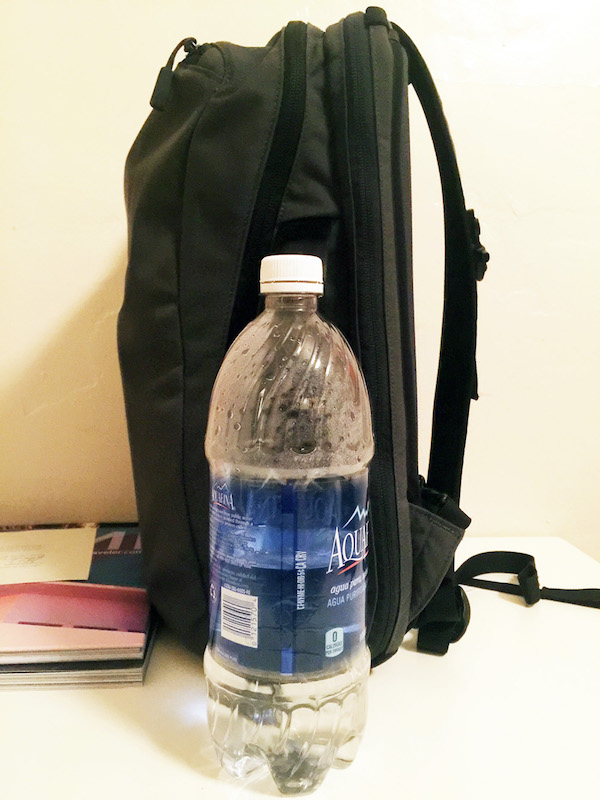 As you can see, the bottle and its holder would affect the accessibility and usage of the main compartment zipper, making it all-but unusable for 'full-access' mode. It would also really mess with the side carry handle – which is almost completely obscured in this photo. If placed on the other side of the bag, the drink bottle holder would be coming into contact with the floor/ground when the bag was in landscape mode – and would still affect the main compartment zip. There are no seams available on the sides to stitch into that won't negatively impact bag usage in some way.
In testing over the last year, we've been putting drink bottles in the top stash pocket, or in the Carry-on when using them as a combo. That said, we're still looking at other potential solutions for bottles – stick around for updates during the rest of the campaign. Again, our line in the sand is that we won't do anything that would jeopardise our current timeline for delivery to you.
CARRY-ON 2.0 HIP BELT
Of all the features that found many friends in the 1.0, the hip belt wasn't one of them.
From the outset we designed the bag so that ideally, you shouldn't need a hip belt – through carefully-considered weight distribution, high-quality straps, and a super plush molded foam back panel. We'd already done a huge amount of testing on this prior to our first Kickstarter in 2013, but during that campaign, there were people who really wanted some sort of belt.
We built a system for the bag involving a removable 35mm webbing strap. It meant very little compromise for those who didn't want to use it. We weren't forcing anyone to carry extra weight around, or walk into a more formal setting with bulky, backpacker-style hip pads that you couldn't remove from the bag. Importantly, it could be developed and implemented without spoiling the timeline we'd promised to backers.
Over the past couple of years, we realised the existing solution didn't do much for the people who actually wanted hip support. It sat in between two different ideas of what the bag should be.
So, we've:
1) Removed the standard hip belt (in addition, this has helped us keep retail price the same / Kickstarter price low, while overall production costs have gone up 10+% even after belt removal).
2. Added bar tack stitching and 35mm loops to where the entry/exit openings were on the molded foam panel (this has added structural strength to the bag overall).
3. Designed and tested a new set of totally removable padded hip attachments as an optional accessory (they attach to the 35mm webbing loops on the 2.0).
For the 2.0, those who want a hip pad solution get a proper one, and those of you who told us you didn't want anything near your hips get a sleek back panel without the extra weight.
Because the hip pad will be an optional extra, we aren't constrained by needing to build the cost into the overall bag price, and can make another best-in-class product with all of the best components.
Here's a preliminary photo of the hip pads attached to the bag – they won't be part of the Kickstarter campaign, but as a backer you'll get a special price on them when they're released.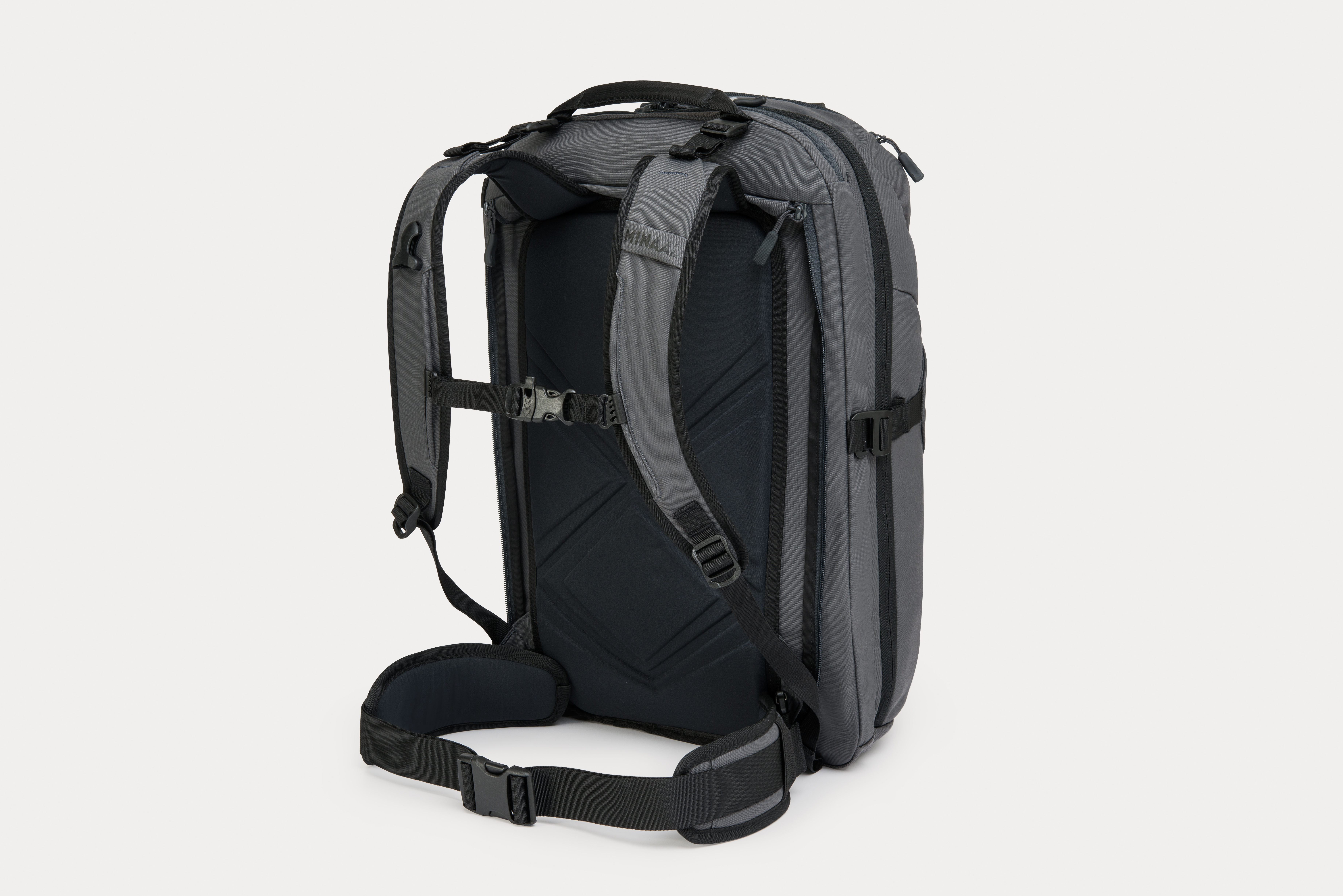 MOOOOOAR PHOTOS
Here are some images of the laptop compartment(s) that didn't make the final cut for the campaign – in some, you can even see the pins used to maintain the shape 🙂
Things of note from the photos below:
1) The Carry-on 2.0 has a document sleeve and zipped pocket instead of forcing you into a complex and – frankly – occasionally confusing series of organisational pockets that defined the 1.0.
2. The Daily has a document sleeve also, but no zipped pocket (not enough room to fit an extra pocket).
3. Both have the suspended, adjustable laptop system, but we don't have full physical mockups yet.
4. We're working to include/retain passport pockets in both models.
Here's the latest Carry-on 2.0 laptop compartment. You can see an earlier prototype version of the suspended laptop sleeve, the zippered pocket, the document sleeve, and the passport pocket. Note that these are all subject to change.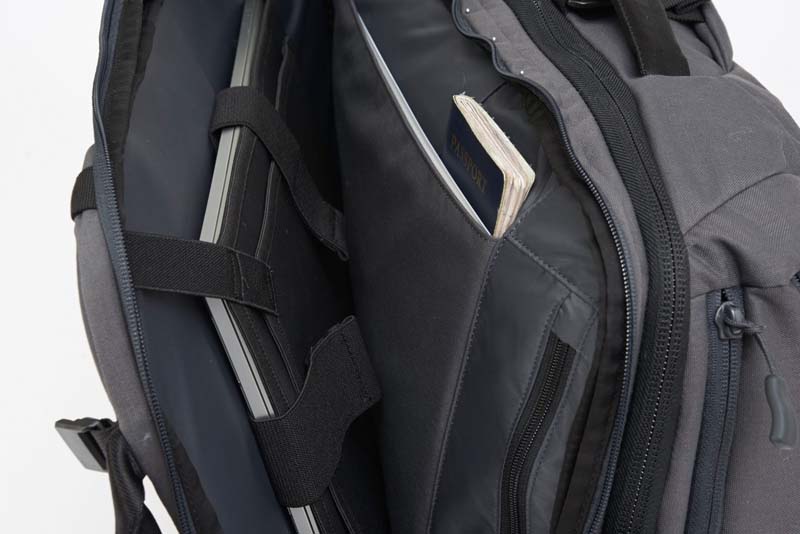 Top down view of the patent-pending 'ladder' laptop system, shown here holding a 13" Macbook lie-flat in the Daily. The 2.0 will have the same system, but won't be lie-flat.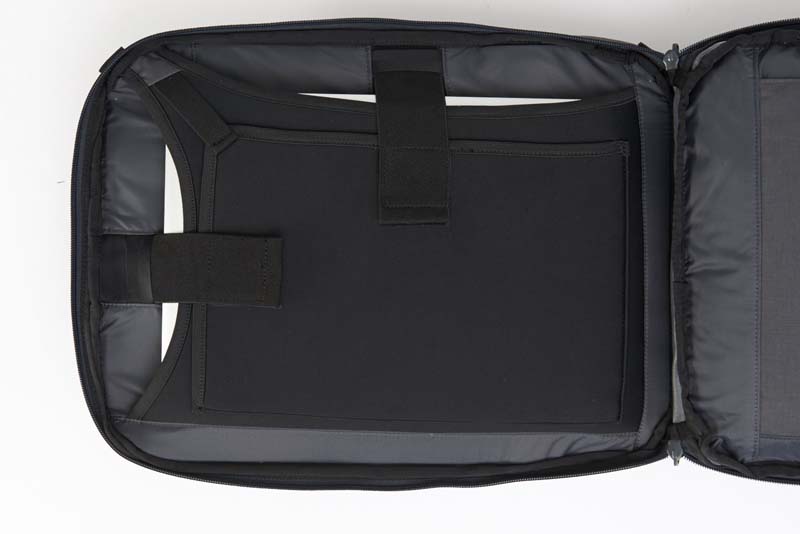 Close up version of the ladder system. The elasticated straps can be switched between loops to better fit different sizes of laptops.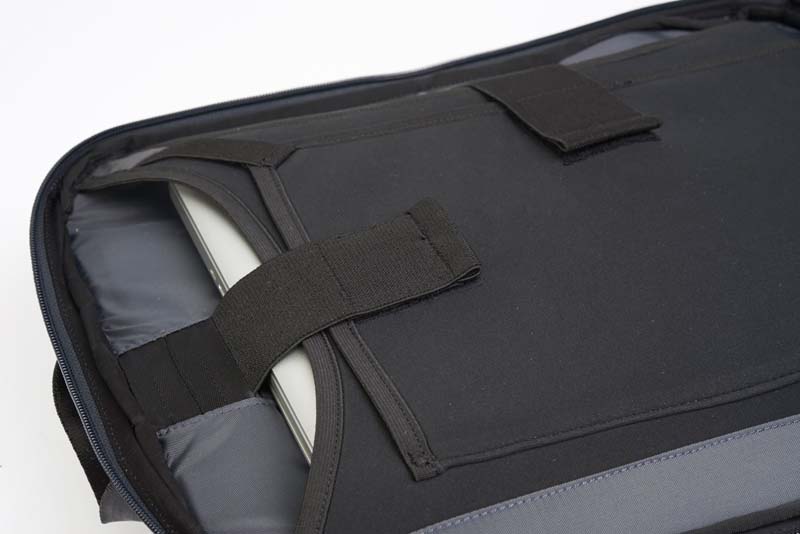 The lie-flat Daily. You can see the document sleeve on the right, but we mainly included this photo because it looks cool 🙂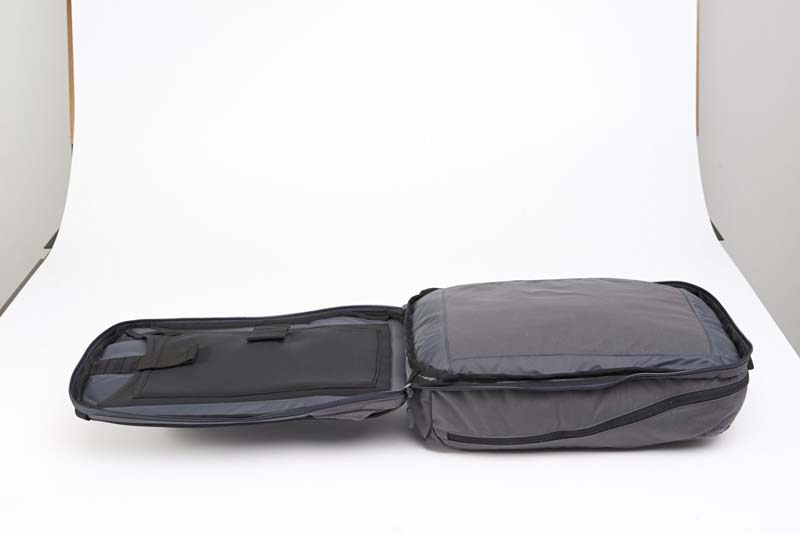 Why don't you put these photos on the Kickstarter page from the start?
Because we don't want to mislead anyone, we don't highlight or promote areas of the bag we haven't finalised. However, promoting is a lot different from sharing progress, so we're happy to drop some more here for you.
This post will likely be a living document; we'll probably continue to update or add photos and info to this page, something we wouldn't be able to do with a Kickstarter update.
Here's a shot to help get a sense of the scale of the Daily internals (the exact storage / organisational features in the main part of the bag are still being finalised, which is why we didn't take photos of it yet):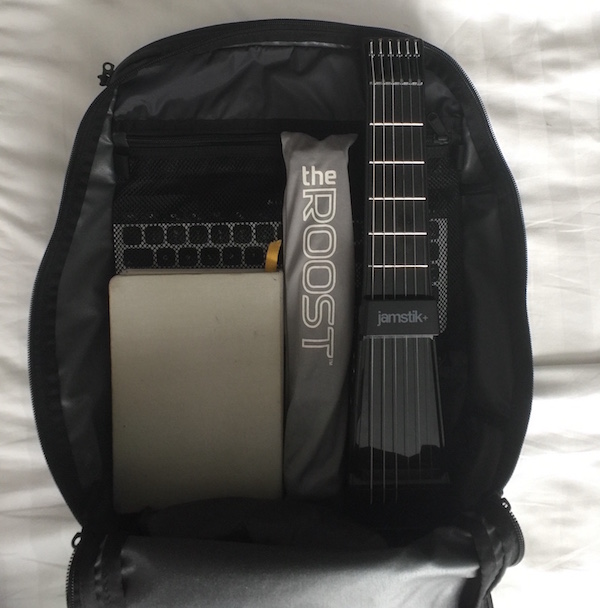 That's a battered Baron Fig notebook, a Roost Laptop Stand (V1), and a Jamstik+ (hell yeah Kickstarter!). In the mesh pocket behind, you can spot a Logitech K811 bluetooth keyboard fitting in sideways (just!).
MESSENGER CAPABILITY
We haven't got anything to add on this area yet, but we hear you, and will be making an announcement either way during the campaign!
---
Ideally, this post gives you some insight on the design and construction of the gear, why it looks like it does, and where we're headed next.
Back with more as we go on the Kickstarter page!
Any thoughts or pictures you want to send our way? Email: feedback[at]minaal[dot]com
Keep moving,
J, D, & the Minaal team